San Francisco Real Estate
Hello! I hope this finds you well.
December's newsletter contains neighborhood market snapshots, as well as some fun things to do around the holidays.
As always, if you wish to opt-out of receiving these emails please send me a text (415) 407- 2595 or email: pota@sfcityhomes.com.
Call me any time with vendor requests, real estate needs, and Realtor referrals outside SF. Consider me your San Francisco real estate resource.
Illuminate 2019: Festival of Light
This two-month celebration lasts until the end of the year. It features free light art tours, nighttime neighborhood walks, artist talks, and participatory experiences.
Home Prices & Market Statistics by SF District
Median House Prices by Realtor District
As always, these prices should be considered very general approximations of prices in complex district markets containing homes of widely varying size and quality.
Median Condo Prices by Realtor District
Market Statistics by Realtor District
As mentioned in previous reports, market dynamics in San Francisco are often – but not always – separated by price segment as much as by neighborhood/district location. More expensive segments not unusually have somewhat softer supply and demand dynamics. However, District 5, one of the city's more expensive districts, has been bucking that trend in 2019.
Districts dominated by condo sales also typically have softer dynamics than those dominated by house sales.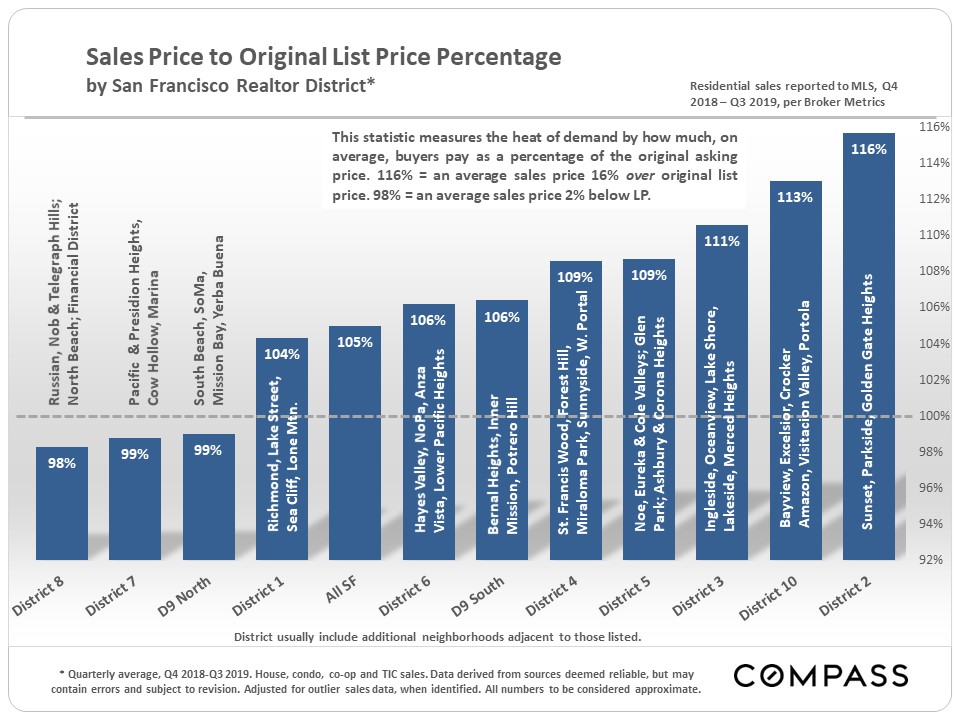 © Compass 2019 ¦ All Rights Reserved by Compass ¦ Made in NYC
Compass is a real estate broker licensed by the State of California operating under multiple entities. License Numbers 01991628, 1527235, 1527365, 1356742, 1443761, 1997075, 1935359, 1961027, 1842987, 1869607, 1866771, 1527205, 1079009, 1272467. All material presented herein is intended for informational purposes only and is compiled from sources deemed reliable but has not been verified. Changes in price, condition, sale or withdrawal may be made without notice. No statement is made as to accuracy of any description. All measurements and square footage are approximate. Equal Housing Opportunity.