Market Data
What is happening in the San Francisco market today?
Here is a look at prices and market dynamics in the different neighborhoods all over the city.
All the market trend charts on this page are 'live' (real time). Bookmark this page to watch the market change each week. Want more details? Please sign my guest book and access the latest details for individual San Francisco neighborhoods listed here.
Current pricing, level of inventory, days on market, and other useful information are grouped by zip code. (Please note that in cases where one zip code is shared by several neighborhoods, the data may reflect a more
general summary of the area overall.)
I can also customize the statistical data to answer any specific questions you may have. Subscribe now to learn more San Francisco real estate trends and other important market measures! Click here to email me for more information.
It's all about what's going on right now and it's free!
San Francisco City Overview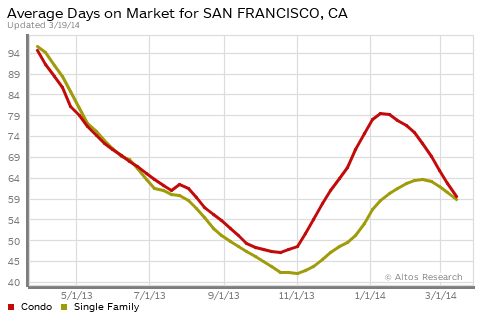 San Francisco Neighborhoods
Alamo
Anza Vista
Bernal Heights
Buena Vista Park
Clarendon Heights
Cole Valley
Corona Heights
Cow Hollow
Crocker Amazon
Diamond Heights
Dolores Heights
Downtown
Duboce Triangle
Eureka Valley
Forest Hill
Forest Hill Extension
Forest Knolls
Glen Park
Golden Gate Heights
Haight Ashbury
Hayes Valley
Ingleside
Ingleside Heights
Ingleside Terrace
Inner Richmond
Jordan Park / Laurel Heights
Lake Street District
Lake Shore / Lakeside
Marina
Merced
Midtown Terrace
Miraloma
Mission
Mission Dolores
Nob Hill
Noe Valley
North Panhandle
North Waterfront
Ocean View
Outer Mission
Outer Sunset
Pacific Heights
Parkside
Parnassus/Ashbury Heights
Pine Lake Park
Potrero Hill
Presidio Heights
Richmond
Russian Hill
South Beach
South of Market
St. Francis Wood
Sunset
Telegraph Hill
Tenderloin
Twin Peaks
Van Ness/Civic Center
West Portal
Western Addition
Westwood Park
About The Charts
Chart contents Copyright Altos Research Corp. all rights reserved. All information contained herein is based on properties currently listed for sale on the Multiple Listing Service. The data presented in this report is accurate to the best of our knowledge, but cannot be guaranteed as such. Use this report as one input in the real estate decision making process, but do not rely on it for accuracy. This report is for information purposes only and is not a recommendation to buy or sell property.